Project: Operational Review and Training Program (Pharmacy & related Stores)
Location: Russia, 2014
Background & Objectives
Our new client contacted us with a specific mission: to improve upon an issue of strategic importance to the company, which was that of sales via improved retail sophistication of pharmacy chains. It was determined the most effective The only way to accomplish this was a total restructuring of the format supported by a 3 day training program.
Our mission was to build upon a concept already proved to be successful in other countries and adapt, develop and introduce this to select Russian pharmacies. This was to be accomplished by They way we needed to accomplish this was to deciphering and coaching:
(1) What are the 5 main components building blocks of a successful pharmacy
(2) How to use these blocks based on your strategic position choice
(3) Show best practices and principles from around the world
(4) Compare these to our findings in a one store sample
The goal was to help transform Russian pharmacy stores, and ultimately sell more of our clients and all product lines. The training was focused on the following components:
Customer Satisfaction
Effective Marketing
Motivated Personnel
The Right Product (Category Management)
Optimal Store Layout
The environment was quite challenging due to:
High level of fragmentation of the market
Drastic differences between stores/chain in (visual) merchandising, sophistication of store lay-out and design
A focus by pharmacies on the cure components and less on wellbeing/preventive
Limited training of staff personnel in active client consulting
Extensive travel to numerous regions of Russia??
To achieve targets, we used the following methods:
Store visits and our Retail Solutions Diagnostic, which was developed in accordance with our proprietary methodology
Customer Questionnaire which included 20+ carefully developed interactive questions and focused on understanding of customer needs and wishes
Mystery Shopper Methodology to assess operational level and customer satisfaction
360 Degree Evaluations to understand employee motivation and expectations
Training dedicated to retail and the shopping experience
Thought provoking topics knowledge and relevant adapted tools to develop your pharmacy.
Interaction and exchanges with our retail professionals and numerous pharmacists.
A new perspective and different view of retailing: (an "outside of the box" thinking environment).
A Provide an interactive training to identify new levels for development
Increase the Value Proposition of the pharmacy via an improved "experiential pathway"
Differentiate the pharmacy and build a strong relational signature
Clues and tools to decode retail techniques
Facilitation of participants views, comments and questions
While participants were all highly educated, our mission was to broaden and advance their retail vision with relevant tools and help the resellers reach a higher level of pharmacy retailing. Therefore to this end, a training program was designed and developed, consisting of pharmacy-audits (in select areas) and seminars to exchange results and best-practices.
To begin, our client chose five specific pharmacies. After a complete analysis and (one store) audit review which our team physically visited, a seminar was conducted, which included presentations, visuals, inactive sessions, Q & A, specific commentary, analysis and recommendations.
Retail Solutions managed and developed multiple areas of this project as our client was interested to locate ideally one professional retail consultancy for all sections, to assist in developing and administering this program from the on start, and into the future. Retail Solutions was hired to assist with start and full development of this program.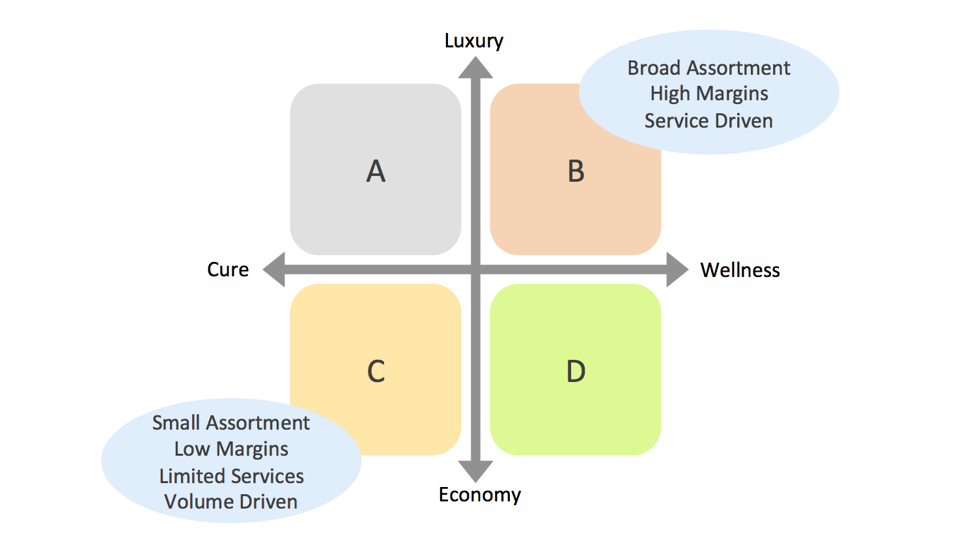 Retail Solutions developed a basic premise structure common for any developed retail chain: (the sales format you choose drives how you manage your stores and products)
The program consisted of:
Audit Diagnostic Preparation, 2 weeks
Deliverables
Seminar Framework (agenda, high level topics etc.)
Templates of the Customer Questionnaire, Store Checklist, Chain Information Request
Audit Diagnostic, 5 weeks
Deliverables
Results of the Customer Questionnaires, Mystery Shoppers, Store analyses, Chains
Initial comparison against benchmarks/best practices
Results Analysis & Seminar Preparation, 3 weeks
Deliverables
Final conclusions of store performance in the 5 areas audited, and comparison against best practices
Seminar Materials (fully developed 3 day seminar)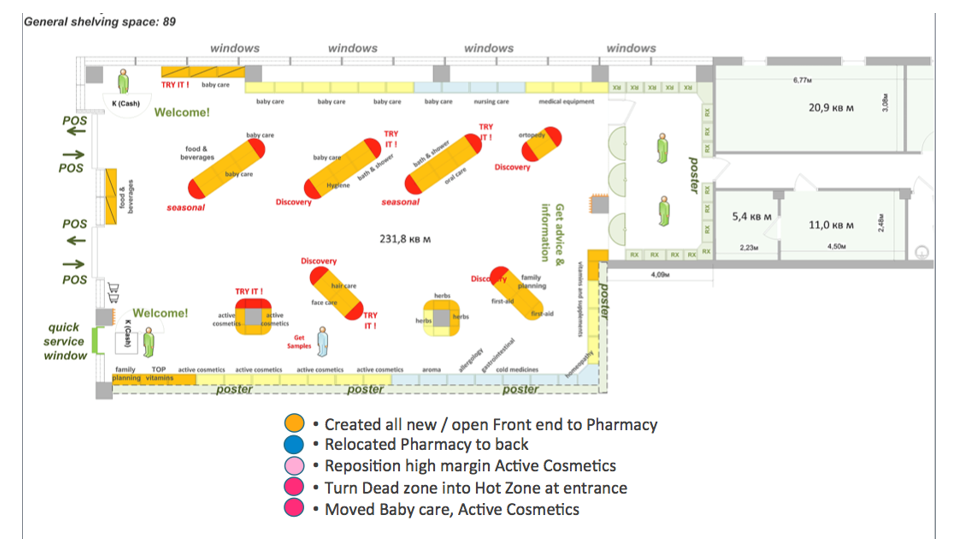 The end result:
We developed and presented an extensive 5 part-training program for five national pharmaceutical retail chains across Russia to include Category Management, Knowledgeable & Motivated Personnel, Optimal Store Layout, Effective Marketing and the Satisfied Customer. The program included:
3 day seminar led by Retail Solutions experts & training and coaching professionals
Presentation of results of store diagnostic audits and conclusions
Numerous presentations, handout materials developed and dispersed
New layouts developed for all chains (an area of great discussion and benefit!)
Interactive sessions
Discussion of possible improvement opportunities based on best practices
Agreement on next steps via group and individuals discussions with owners of all companies
Owners that attended the seminar as well as CEO's and COO's thought the sessions to be thought provoking, and had many opinions, commentary, questions. Ultimately, the majority of attendees had already started to transform their pharmacy chains and steeped up efforts and enthusiasm. With most companies, many follow on meetings were held afterward to continue the development and restructurings. Another Great Success for Retail Solutions as well!


If your company is considering an executive management-training program, please contact Retail Solutions for a discussion of how we might assist.
We also are able to identify possibilities for improvement and likely dramatically improve your Store Layouts, Merchandising, Category Management, Marketing with our proprietary methodologies.
Retail Solutions Team