Project: Social Media Loyalty System, Mobile application
Location: Russia & International, 2012
Background & Objectives
This project was divided into two distinct phases I and II. The objectives of Phase I were to identify a shortlist of target retailers in Russia for an initial round of meetings with the owners/CEOs and relevant senior management in order to present the Social Media Loyalty System (SMLS) for retail and to secure interest in a launch of the product. The goal was to achieve a commitment from at least one of these companies to proceed to a trial retail implementation. In addition, we were to identify the issues with implementing and integrating the new system into retailers, and prepare a Strategic Direction document.
The objective of Phase II was for Retail Solutions to enter into a long term relationship with the client in order to successfully develop and rollout the SMLS system in Russia and worldwide and use an extensive Strategic Direction document we created for the client as the foundation for expansion. In addition, extend the trial to other retailers in Russia and to other territories (i.e. - Central and Eastern Europe).
The Strategic Direction document provided an overview of our findings and the means by which the objective can be achieved with the assistance of Retail Solutions. As part of this process we have prepared a full set of financials including projections over the next 5 years and across a number of territories.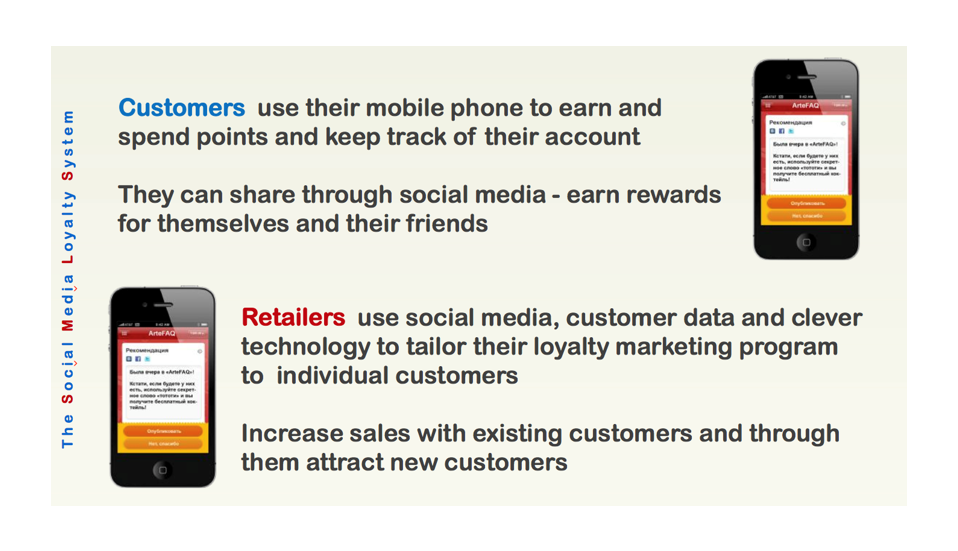 BACKGROUND
Our client was more familiar with HoReCa operating the SMLS.NET system, though we noticed synergies between the restaurant, hospitality sector and the retail sector. However there were also significant differences that were not apparent to the uninitiated. Retail Solutions brought our extensive experience working in the retail, financial, operations and loyalty sectors in Russia, Central and Eastern Europe, Western Europe and North America. It was this experience together with a fundamental belief in, and commitment to the success of the SMLS product, that gave us the unique ability to assist our client with this project.
OUR APPROACH
Retail Solutions invested a significant amount of time and resource to ensure a successful outcome to Phase I of the project. Using our extensive network of high-level retail contacts we successfully conducted meetings, in cooperation with the client SMLS.NET management, with six key retail targets in the Russian market focusing on the fashion sector. As part of this process the meetings had a mostly favorable outcome due to good planning and an accurate assessment of the issues and potential objections that could be raised. As a result we were in the advantageous position that at least half of the companies approached could potentially precede to trial the SMLS retail system.
Retail Solutions also conducted a number of high-level audits in restaurants and other outlets in Russia where the SMLS.NET system for restaurants was currently operating. The purpose of these reviews was to: 1) gain first-hand experience of the system from a customer point of view; 2) to identify any potential technical or operational issues; 3) to familiarize our team with the functionality of the system in preparation for client meetings; 4) to identify a potential benchmark operator as a best practice reference.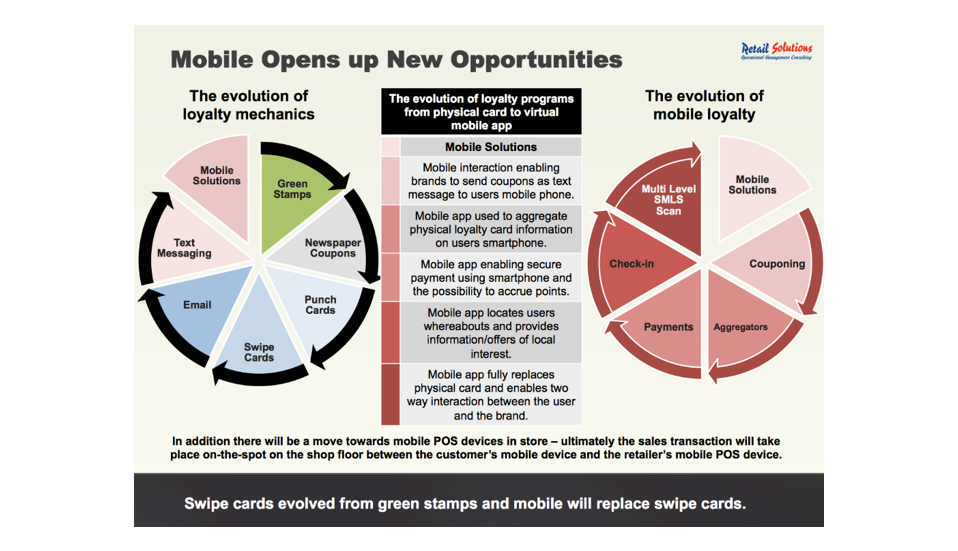 KEY FINDINGS
As a result of the reviews, a number of operational and technical issues were identified. Below is an example of the types of operational issues noted.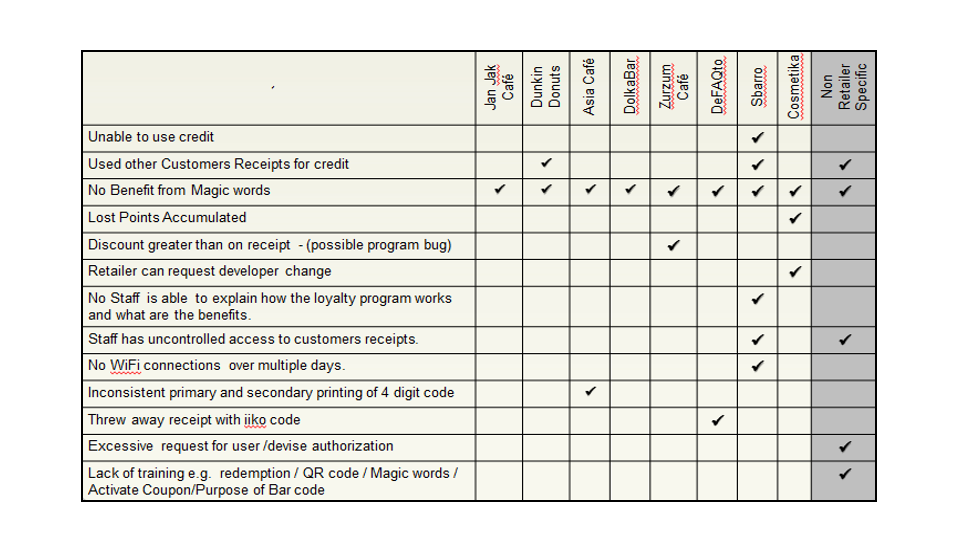 A full summary of operational and technical issues was included in the Strategic Direction document, together with recommendations for addressing these issues.
RECOMMENDATIONS
Retail Solutions strongly recommended that steps are taken to rectify the SMLS.NET technical issues that have been identified and that operational solutions be implemented with the existing restaurant and other clients. Commencing immediately would ensure that a retail implementation of SMLS Retail into Retail Chains would not experience any similar potential barriers to success. This was important for various reasons two of which are:
The SMLS.NET live operation in existing restaurant and hospitality outlets provided a shop window for the system for potential new clients for SMLS Retail.
Replicating current issues as part of the SMLS Retail rollout might have a severe impact on a retail client confidence in the system, and at worse result in a launch cancellation.

Due to the competitive nature of the retail market and in particular the proliferation of retailer loyalty programs and mobile loyalty systems, we recommended that SMLS Retail be launched at the earliest opportunity to ensure first mover advantage and keep the present momentum. Retail Solutions has first-hand experience of the permanent long-term advantages that can be gained from being the first to market with an innovative new loyalty program (e.g. - Tesco Club card). We wanted to achieve this objective while ensuring that the appropriate level of technical development was carried out to facilitate this without unnecessarily delaying a retail launch. The same consideration would apply, as SMLS Retail would be extended to other territories.
Retail Solutions recommended the primary focus for SMLS Retail launch take place in the Russian retail market, with a particular focus on the branded apparel, luxury, footwear and specialty sectors. These sectors enjoy relatively high margins and have the potential to invest in loyalty programs. Additionally, there was strong competition in these sectors to differentiate the brand, to increase footfall and to increase sales conversion.

Every effort was needed to ensure SMLS Retail was designed with the aim of satisfying needs of retailers and creating a positive customer loyalty experience. Failure would provide a barrier to success and we wanted to avoid the downside of creating a technology product for the sake of doing so.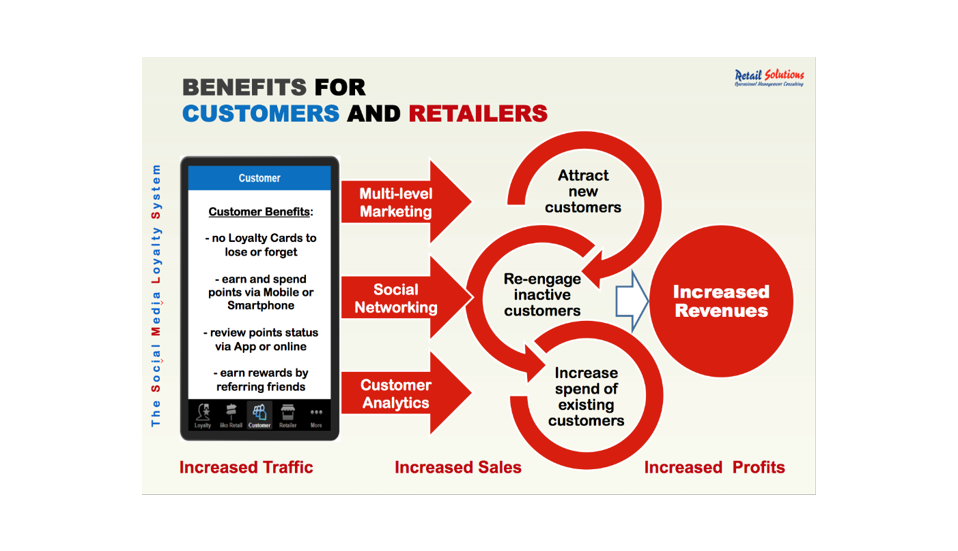 RETAIL TARGETING STRATEGY
In the process of selecting suitable retail partners for an SMLS Retail launch our focus was on identifying companies which met the sector criteria (i.e.- branded apparel etc.) and with which Retail Solutions had strong contacts at a CEO/owner level. We selected retailers that understood the value of increasing footfall and which had management structures that could facilitate change. A full summary of the scoring methodology used to select the most suitable retail partners was outlined as well in the Strategic Direction Document.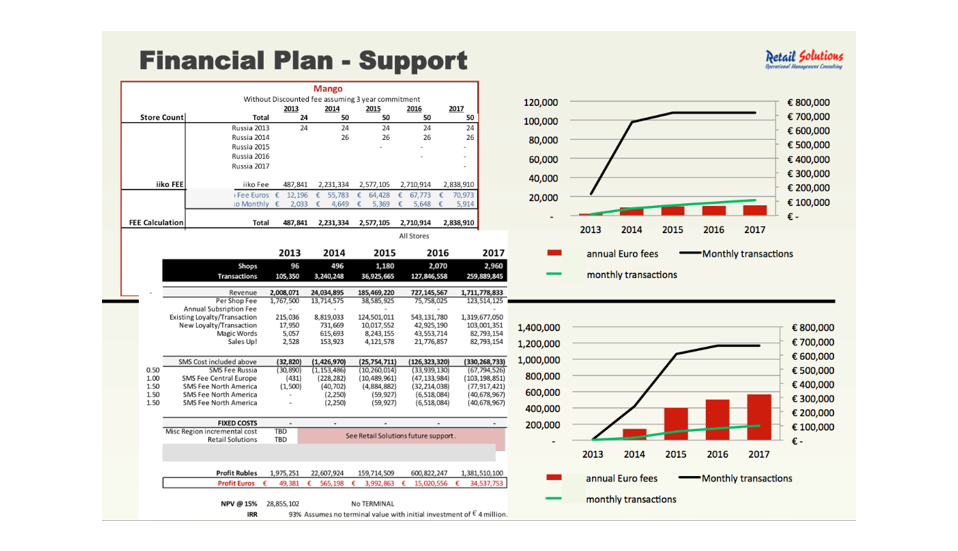 CONCLUSIONS
Our client was is in the midst of a significant effort to expand SMLS into various new segments of the market including retail (SMLS Retail). In the Strategic Direction document we have outlined how Retail Solutions could help our client to achieve this in the most effective and progressive manner. It has been stressed in meetings and these documents that achieving a successful first mover advantage is essential to the long-term success of the project. Retail Solutions has a strong belief in SMLS Retail and is committed to working with our client team to achieve the long-term success of the project.
If your company sees the opportunity to increase your sales and bring in new and former customers, consider the benefits of implementing the latest marketing tools please contact Retail Solutions for a discussion of how we might assist. We will introduce your company to marketing that encompasses Social Media, Loyalty, and Mobile technology.
In addition, if your company is considering any new start up business, we can put together a complete business plan and Strategic Direction documents fully supported with financials and sensitivity analysis.
Retail Solutions Team